HARDCORE ENERGY FOR HARDCORE WORKOUTS.†
Our other pre-workouts not strong enough? Stimulant lovers, rejoice! Behold our hardest-hitting pre-workout. 
With increased caffeine, Juniper Berry Extract, and other explosive ingredients exclusive to this formula, Superhuman Supreme is for those who need SERIOUS energy. †
375 mg of dual sourced caffeine
Maximum strength pre-workout formula
Increased stim effectiveness†
Increased euphoria during training†
Elevated nutrient absorption†
Flavors:
Cherry Popper = Sweet Black Cherry
Hulk Juice = Sour Gummy Bear
Patriot Punch = Blood Orange Pineapple
Slaughtermelon = Watermelon Lemonade

After hundreds of requests, 2019's #1 Hardcore Stim Pre Workout SUPERHUMAN® SUPREME is back...
And with a new and improved 2020 formula that's more epic than ever!
So what makes the NEW SUPERHUMAN® SUPREME formula so incredible?
We went back to the gains lab and somehow created a longer-lasting, more euphoric pre-workout experience thanks to the following improvements:
Added 200 mg of the wild Juniper Berry Extract
Added 50 mg of AstraGin® for MAXIMUM absorption
Why these two X factors? Why not just dump in more stimulants?!
Because Juniper Berry Extract increases both the effectiveness AND uptake of stimulants in the body...
While at the same time creating a more "euphoric" feeling while working out...
So you'll be feeling the effects of Supreme's powerful formula more than ever before + feeling overall happier every time you step foot in the gym!
Coupled with the addition of the absorption titan AstraGin®, we've maximized the efficiency of every ingredient in Supreme so you get the most out of EVERY scoop.
Add these to the already incredible SuperHuman ingredients present and you have an unparalleled MAX DOSED pre-workout experience:
375 mg of dual-sourced caffeine

3500 mg of Beta-Alanine

7000 mg of L-Citrulline Malate

1000 mg of L-Taurine

2500 mg of Betaine Anhydrous

And much more!
The synergistic effect of all these + the two new "Supreme X Factors" produces never-before-felt strength, energy, focus, and pump without the nasty crash...
Plus a wild dose of euphoria that'll make you happy to demolish your workouts.
You WILL NOT find this formula anywhere else on the planet. And that's why SUPREME hits harder than Tyson in his prime (but your ears will be fine, don't worry).
With every massive scoop loaded with 17 grams of premium ingredients, there's a reason why one customer said this new Supreme is "like no other pre-workout I've ever tried...even the original Supreme!!"
All this epicness in three delicious flavors you already know and love:
 HULK JUICE: Our #1 best-selling sour gummy bear flavor that gives you the strength to SMASH every workout by unleashing your own inner green beast!

 CHERRY POPPER:  A sweet cherry flavor that's guaranteed to pop your max-dosed pre-workout cherry (with your consent, of course)!

 SLAUGHTERMELON:  A scary delicious watermelon lemonade flavor that'll give you the power and focus to slaughter every intense workout!

BUBBLE TROUBLE: Pineapple Bubblegum Limited Edition Flavor
CAUTION: SUPERHUMAN® SUPREME is no joke. We warned you!
†These statements have not been evaluated by the Food and Drug Administration. This product is not intended to diagnose, treat, cure, or prevent any disease.

Only cowards hide behind magical "blends" in their formulas that are simply marketing excuses for underdosed ingredients and ineffective products.
Formulated with 100% transparency, using premium & patented ingredients at scientific dosages.
We take pride in our Full Label Disclosure, so you see EVERY ingredient inside.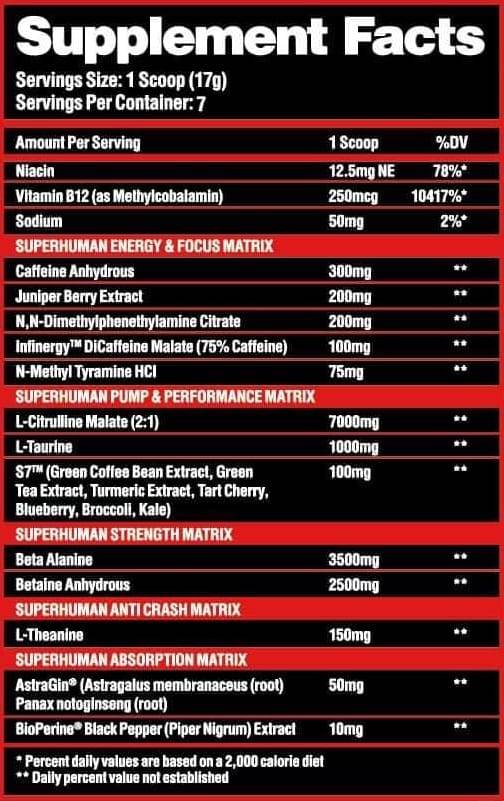 The Alpha Lion Difference

All Alpha Lion products are formulated for men and women who want to enhance performance to superhuman levels in and out of the gym. Made with some of the most premium and patented ingredients available. You will never see our formula hidden behind a proprietary blend as 100% transparency with our customers is what we believe in. All our products are 100% safe, tested, and made in the USA in an FDA and GMP certified facility and backed by an industry-first 365 Day Money Back Guarantee.


SCIENTIFICALLY FORMULATED